Which block do I need?
Details

Published: Monday, 23 February 2015 10:43
Written by UDK Gazbeton

The article describes how popular, how to select a block of a wide range of products, special attention is paid to the selection of blocks for external walls without insulation for the different climatic zones of Ukraine, taking into account the normative coefficient of thermal resistance R.
We are often asked: which block I need to build a house? In order to properly answer this question, we must first of all understand what, where and what to build. It is clear that just such a question is asked, then we are dealing with samozastroyschikom who builds a house without a professional project. The story that is better to order a project and build a house professionals is a topic for another conversation.
So, consider the range of blocks that are available under the trademark UDK GAZBETON.
Product name

Mark on the average density (D)

Class (grade) for the compressive strength (B)

Thermal conductivity,
W/mK

Length, mm

Height, mm

Thickness, mm

UDK Block 400

D400

B2,0; В2,5

0,10

600

200

250
300
375
400
500

UDK Block 500

D500

B2,5

0,12

600

200

UDK U-Block

D500

B2,5

0,12

500
600

200

250
300
375
400
500
The table shows that the building blocks primarily differ in density class (D400, D500). This is an indicator of medium density (mass per unit volume) in a dry state, which is measured in kg/m3 , ie 1 m3 of aerated concrete in the dry state would weigh 400 or 500 kg. The concrete is lighter, the less heat conductor and therefore the wall of it warmer. A denser than the material, the greater the strength he may have.
The next important component is the class of concrete strength. A more understandable to the ordinary customer outdated figure "mark concrete" (for example, M25, M35, M50, etc.). Make concrete - is the mean value of the compressive strength of the samples (ie, the load at which the material begins destruction) in kgf/cm2 . The modern figure - concrete class "B" - is also a characteristic concrete compressive strength, but allows the coefficient of correlation, ie the possible deviation of the average strength. Concrete class - a dimensionless quantity, however, the numerical value of 1.5; 2; 2.5; 3.5 out of kilter with sufficient breaking load in MPa.
It is often asked: how tall a building can be built of aerated concrete, or how many floors can be built? And although the various articles we answer that it is possible to build a 2, a 3-storey building, it is necessary to bear in mind that this statement is true, if the building is properly designed and built, and is independent of the material of the walls, whether brick or aerated .
Once again, look at the table with the product range. We see that all the units are the same length - 60 cm and the same height - 20 cm. The difference in the geometrical dimensions are thickness. The blocks have a thickness of 10; 15; 20; 25; 30; 37.5; 40 and 50, see
Blocks of a thickness of 30 cm or more, are used for construction of exterior walls, and in the case of construction of the walls without insulation - to use blocks of thickness not less than 37.5 cm. Thick blocks 10, 15, 20, 25 See, as a rule, are used for the construction of interior walls and partitions.
Due to the fact that the aerated concrete to date the only wall material from which to build a single-layer wall without additional warming and accordingly one square meter of the finished walls of aerated concrete cheaper than any other wall structure, we consider in detail how to choose block the desired thickness and density.
The territory of Ukraine is divided into two temperature zones having different normalized coefficient of thermal resistance of enclosing structures of R (DBN V.2.6-31: 2008 "Thermal іzolyatsіya budіvel" zmіna №1 z 01.07.2013 r.) .
The map diagram of temperature zones of Ukraine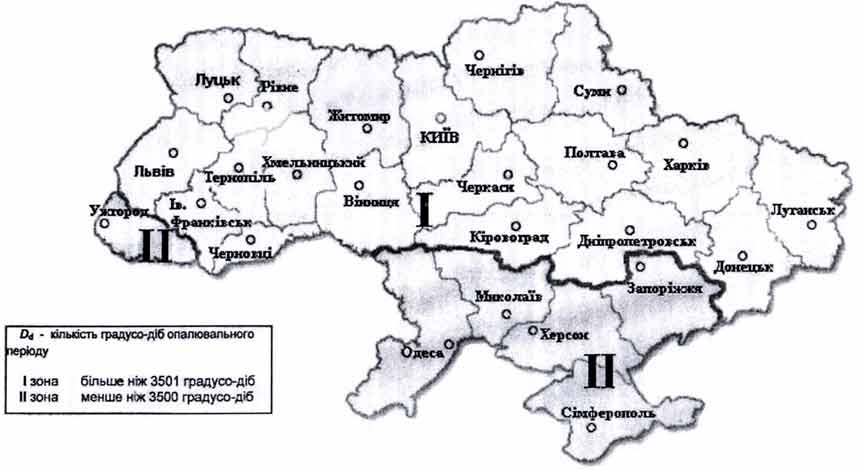 The minimum allowable values ​​of thermal resistance of enclosing structures of residential and public buildings, R qmin, m2K/W (Table. 1, DBN V.2.6-31: 2008 " The heat іzolyatsіya budіvel' zmіna №1 01.07.2013 p.):
Type of building envelope
The value of R q min for temperature zone
I
II
Exterior walls
3.3
2.8
Knowing where in the planned construction, it is possible to select the desired thickness and density of the block of the table.
Areas of possible application of masonry glue blocks of autoclaved aerated concrete grades D400 and D500 of LLC "UDK" without insulation:
Type of building envelope

Mark Block

The thickness of the masonry

Temperature area

I

II

The outer walls of residential and public buildings

D400

300 мм

375 мм

+

+

400 мм

+

+

500 мм

+

+

D500

300 мм
Approx. "-" Sign shows noncompliance with regulations, a "+" is shown compliance of thermal resistance.